Mothers have an instant reaction to a baby crying, I have one for cats.
I was outside before I really processed it wasnt the 'voice' of either of my cats crying. It was the somewhat stray, out in the downpour and crying at every door it came to, wanting in pretty badly.
We are now at the phase where the cat recognizes me as a source of petting and food, and so doesn't run away when I move. I sat on the porch with her(almost positive) for quite some time. She was happy as hell, purring and rubbing and even grooming me every now and then. Poor kid is seriously attention starved. she isn't acting wonky, so it isn't cat in heat, just...lonely and needy. She eventually settled at my side and watched the rain with me for a bit. Eventually (my feet started to get very cold) I distracted her with some Science Diet and scooted back in the house, to the rather disapproving expressions on both Mildmay and Phaedrus' faces.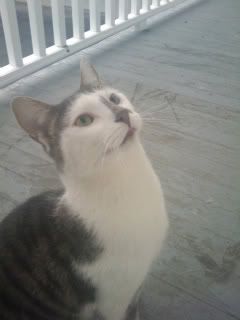 isnt she pretty?
( a handful more pics here )